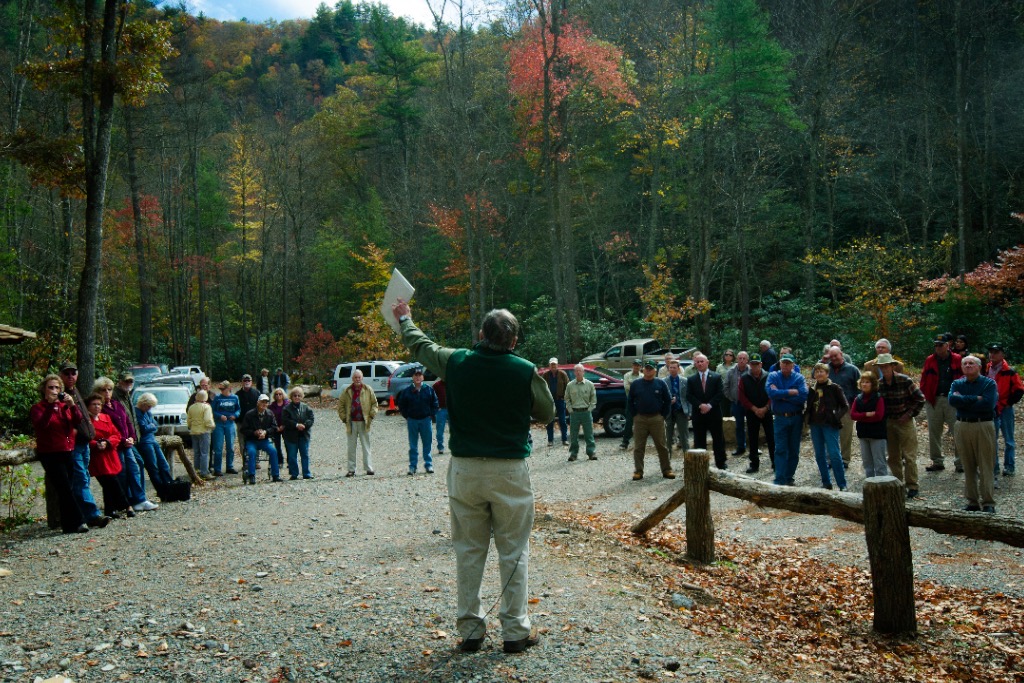 Join with the Johnson County Trails Association (JCTA), formed in 2001, to continue this trail tradition. We envision a network of trails covering 87 miles of Johnson County countryside. These trails will:
Connect the communities of Johnson County
Provide recreational opportunities for Johnson county residents and visitors
Provide access and destinations for hikers, bicyclists, and horses
Allow non-motorized access to natural areas, communities and neighborhoods
Preserve and protect natural, cultural and historic resources and sites
Provide opportunities and incentives for economic development
Current Projects
JCTA members are focused primarily on trail development. The JCTA is partnering with the National Forest Service to develop the 6.0 mile Laurel Creek Trail as a multi-use, non-motorized trail through the Laurel Creek Gorge. A century ago, this former transportation route enhanced the region's economy and quality of life; we're bringing it back for the same reasons.
Community Outreach
Educational programs foster stewardship and give our youth a foothold in the forests. Each year, middle school students hike the trails and learn their local history and culture, as well as identification of flora and fauna. In the woods, they have hands-on learning experiences involving orienteering and map reading, as well as instructions on how to "Leave No Trace" in order to preserve these natural resources for others to enjoy.
Connecting Trails
Trails extend all over these hills, not only in Johnson County, but also in our neighboring counties and states. We're connecting up with other trails and trail systems, such as:
The Virginia Creeper Trail and other Virginia trails. The networking efforts of the JCTA include connection with trail systems that provide similar recreational opportunities. One of these is the nearby Virginia Creeper Trail that runs from Abingdon, Virginia to the North Carolina state line. This popular trail is a hiking, biking and equestrian adventure enjoyed by thousands annually. The Laurel Creek Trail will be a spur off the Virginia Creeper Trail offering a new opportunity for trail enthusiasts.
The Tennessee Greenways System. A plan proposed through the Governor's office to ensure that across the state of Tennessee "every citizen of Tennessee has convenient access to a greenway or trail. By implementing this plan, every community in Tennessee, regardless of size or location, can have a greenway or trail to call its own." JCTA is following in these footsteps. Endorsed by the Board of Mayor and Aldermen for the Town of Mountain City and the Johnson County Board of Commissioners, JCTA is the authorized City/County interface for trail and greenway development.
Southern Appalachian Greenways Alliance (SAGA). Regionally, JCTA participates with SAGA envisioning and developing "a regional system of greenways and trails that link together the communities of Northeast Tennessee and Southwest Virginia connecting people, nature and communities."
Long Range Plan
The JCTA has a long range plan which includes as a primary objective the development of an 87-mile multi-use trail network. Some of the trail segments will include these connections:
Mountain City to Watauga Lake
Roan Valley Estates to Ralph Stout Park (Goose Creek Trail)
Shoun's Crossroads to Sink Mountain (The Roan Creek Trail)
Shady Valley to Backbone Rock and to Damascus, Virginia
Mountain City to Doe Valley
Roan Valley Estates to Trade
Doe Valley to Shady Valley
Obtaining rights-of-way for this 87-mile trail network is of critical and primary importance. A concerted effort is being made to identify corridors and specific routes for the entire network; easements are being pursued and will be maintained until development funds can be acquired, which may take several years.
The first new trail to be developed is the Laurel Creek Trail which will be a spur connecting to the Virginia Creeper Trail. This will be a multi-use, non-motorized trail. It is a three-phase development, extending first from Camp Ahistadi in Johnson County to the Virginia Creeper Trail, then thru Laurel Bloomery and finally into Mountain City.
Ready to Boot Up?
All this takes work and money. The JCTA, an all-volunteer organization, welcomes interested persons to become involved in our efforts. The focus of the JCTA is to develop trails for the purposes of health and recreation, economic revitalization, and stewardship of the land. The work of JCTA includes long range planning, trail layout, design, and development, community outreach to promote our objectives, partnering with the National Forest Service (29% of Johnson County lies within the Cherokee National Forest), and project funding. Funding partners currently include the National Forest Foundation, TVA, Mountain Electric Cooperative, Tennessee Parks & Greenways Foundation, Johnson County Government, and the Tennessee Medical Association. JCTA is a 501(c)(3) corporation chartered in the State of Tennessee. Contributions are tax deductible.